segunda-feira, junho 06, 2005
Vencedores do MTV Movie Awards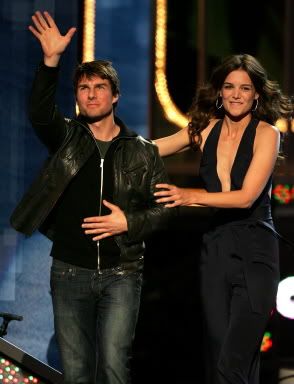 Cruise com prémio Carreira, Hoffman com prémio
comédia
Numa cerimónia tão divertida quanto ligeira dos MTV Movie Awards, o protagonista do filme
Guerra dos Mundos
, de Steven Spielberg – que estreia a 7 de Julho em Portugal –, Tom Cruise recebeu o seu primeiro prémio carreira das mãos da actual namorada, Katie Holmes. A actriz irá aparecer no filme Batman Begins – com estreia marcada para 23 Junho, em Portugal.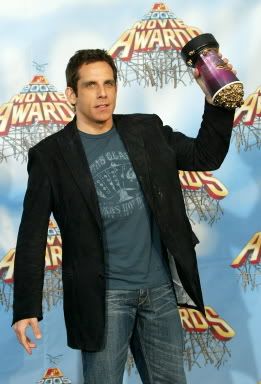 Leonardo Di Caprio
foi distinguido como melhor actor pelo filme O Aviador,
Ben Stiller
foi considerado o
melhor vilão
em Dodgeball e a jovem
Dakota Fanning
participou naquela que foi considerada a melhor cena assustadora, em Hide and Seek. A melhor representação cómica foi para
Dustin Hoffman
, pelo filme Meet the Fockers. O melhor beijo coube a
Rachel McAdams e Ryan Gosling
, em O Diário da Nossa Paixão e a melhor luta para Uma
Thurman e Daryl Hannah
, em Kill Bill: Vol. 2.
List of winners at the 2005 MTV Movie Awards, taped Saturday night in Los Angeles:
- Best Movie: "Napoleon Dynamite."
- Male Performance: Leonardo DiCaprio, "The Aviator."
- Female Performance: Lindsay Lohan, "Mean Girls."
- On-screen Team: Lindsay Lohan, Rachel McAdams, Lacey Chabert, Amanda Seyfried, "Mean Girls."
- Kiss: Rachel McAdams,Ryan Gosling, "The Notebook."
- Villain: Ben Stiller, "Dodgeball: A True Underdog Story."
- Musical Performance: Jon Heder, "Napoleon Dynamite."
- Breakthrough Male: Jon Heder, "Napoleon Dynamite."
- Breakthrough Female: Rachel McAdams, "Mean Girls."
- Fight: Uma Thurman vs. Daryl Hannah, "Kill Bill: Vol. 2."
- Frightened Performance: Dakota Fanning, "Hide and Seek."
- Comedic Performance: Dustin Hoffman, "Meet the Fockers."
- MTV Generation Award: Tom Cruise.
- Video Game Based on Movie: "Chronicles of Riddick: Escape from Butcher Bay."
- Action Sequence: Roland Emmerich, Destruction of Los Angeles, "The Day After Tomorrow."